Products to improve your audio quality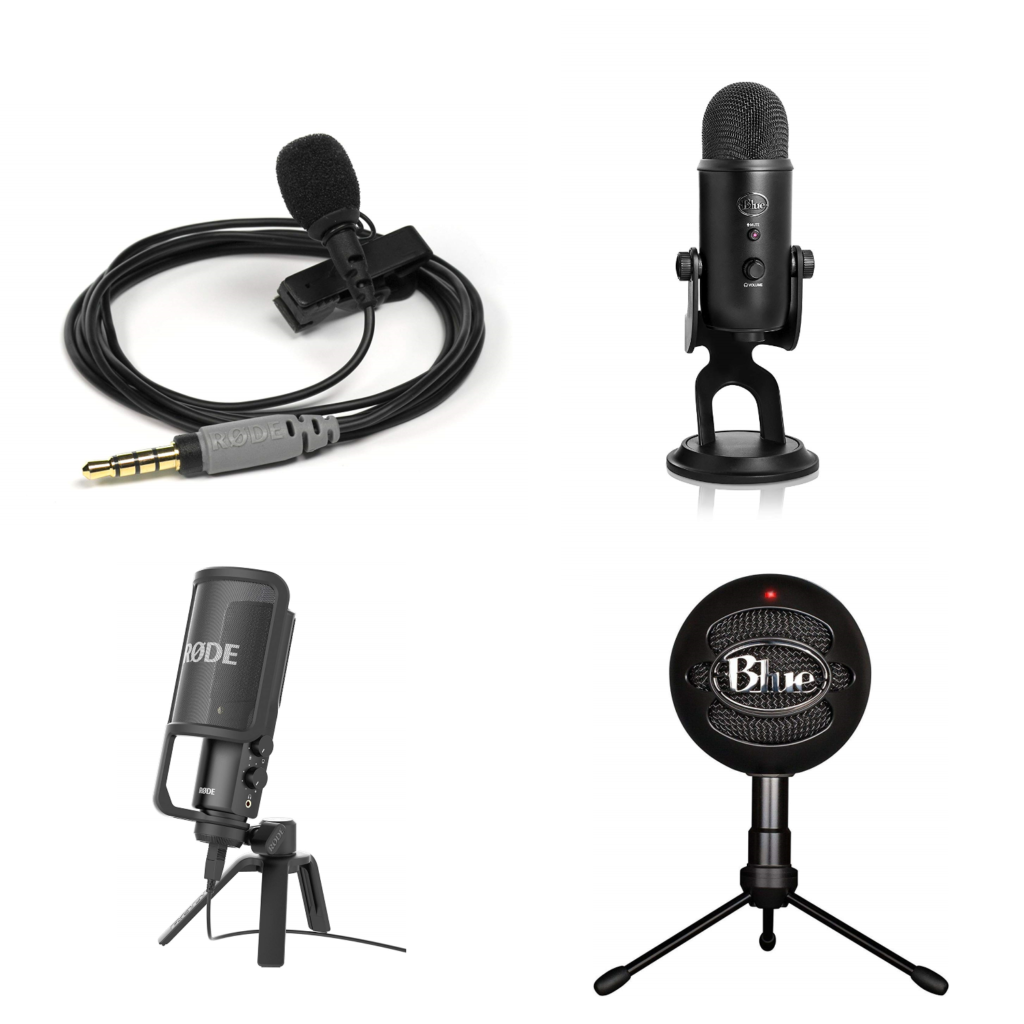 The links in this article are affiliate links and purchasing an item through them gives a small percentage to me at no extra cost to yourself. This helps with the running of the blog and is much appreciated.
Sound quality is probably more important than you realize. An April 2018 study in the Science Communication journal by the Australian National University found that audio quality affects the listener's belief in what is being communicated.1
The author of the study, Dr. Newman, of the ANU Research School of Psychology, had this to say;
"When people are assessing the credibility of information, most of the time people are making a judgement based on how something feels. Our results showed that when the sound quality was poor, the participants thought the researcher wasn't as intelligent, they didn't like them as much and found their research less important."2
Surprisingly, even introducing the author's qualifications made no difference to the audience's perception of an untrustworthy message if the audio quality was poor. Good audio quality is extremely important to the effectiveness of a message because it affects how someone feels. If you are a professional that communicates via live streaming or videos this study shows that credentials alone are not enough to convey trustworthiness.3 However, simply upgrading the quality of the audio you are conveying your message with can make a world of difference. It'll increase your effectiveness and is well worth the investment.
"Our results show that it's not just about who you are and what you are saying, it's about how your work is presented." Dr. Newman
So let's have a look at some options that can help.
Products to increase the quality of your audio
My wife and I own a small business called NutriSector. She is a dietitian and as a communicator, she produces videos and live streams. In 2016 we purchased some audio equipment to improve the quality and hence the effectiveness of her message.
One of the things that we had to take into consideration was portability and that may well be the case with yourself no matter what profession you are in. There would be many instances where she would be out at a conference, the supermarket, a farmers' market or simply a great location and wanted to record a video, live stream or interview. The phone microphone or earphone mic just wasn't good enough and we knew there were better options.
Rode SmartLav+
The Rode SmartLav+ can be found around $70-80 and was the portable option that we went for. Four years later it's still a mic we use regularly which is a testament to build quality. Rode is an established company that produces great microphones and this mic comes with a 1-year warranty. The SmartLav+ is a lavalier microphone that plugs into the audio jack socket of an iPhone (or Android phone, laptop or computer with an adapter) and clips onto clothing just below the neck. Its closeness to your mouth allows it to clearly pick up what you are saying – even in noisy environments and blends in on dark clothing. It is a vast improvement on the iPhone mic and the mic on the headphones and will improve the richness of your audio in any phone streaming or video recording that you do. Check out the latest price here.  We found the length of the cord to be more than sufficient but you can also purchase a 20ft extension if you need.
Please note that if you have an iPhone 7 or above you will need to have a 'lightning to headphone jack' adapter as your phone will not have an audio jack. These typically cost around $10. If you are unsure about quality on Amazon I would recommend getting them on the apple store where you can get a basic adapter for $9 or one that allows charging at the same time for $35.  

If you really find yourself loving this lav mic and starting to do more interviews you can use this adapter to run two of the Rode SmartLav+ mics through your phone and monitor the audio at the same time. 
Rode SC3 adapter for android phones
Yes! You can use the Rode SmartLav+ on an android phone if you purchase the Rode SC3 adapter for around $14.99. Honestly, even if you own an iPhone I would purchase this adapter as it allows you to connect the lav mic to laptops or computers (that have a mic jack socket) and also to cameras that have an audio jack socket. For $15 you just increase the number of potential areas in which you can use the SmartLav+ mic which increases its value to you.
These USB Microphones are easy to use and of a high quality
Since audio quality is so important I recommend doing your research when it comes to choosing a USB microphone. Be careful going with unknown brands, read reviews and pick one that will suit the jobs you need it for.
Update: Due to the pandemic many USB microphones are out of stock online and difficult to find.
The Blue Yeti
The Blue Yeti blackout edition was the $116 USB microphone that we choose for recordings based at home or at the office. We actually waited and got it for $89 in the sales (it also comes in a variety of colors). It is heavy and has a lot going for it as can be seen by the 4.5 stars and over 7000 reviews on Amazon. We chose it for the quality of sound that it delivers, and the 4 sound pick-up patterns it offered us (stereo, omnidirectional, cardioid, and bidirectional settings).  Check the different settings on the product page and see if they would be of use to you. Typically we have used the cardioid settings for video and live streams as it cuts down on the background noise by only picking up sound directly in front. This helps improve quality if you have background noise. It gives a rich quality to the voice which we like and allows us to monitor the audio in real-time through the mic with headphones. You can check out the latest pricing here.
So what accessories might you consider for the Blue Yeti microphone? There's a boom arm, that clamps to the desk and allows you to position the microphone much closer. Then there's a foam windscreen that is cheap and helps prevent popping sounds in the audio. 
The Rode NT-USB
The next microphone is a slight step up in price at $169 and it's the Rode NT-USB cardioid microphone. This comes with a pop filter and has great reviews. It produces a rich sound that is great for live streaming, videos or podcasting. The base of the mic is not as solid as the blue yeti and care should be taken not to knock it over. It doesn't have a gain knob (sensitivity) on the microphone like the Blue Yeti but this can be altered on the computer. This mic also allows real-time monitoring via headphones.
You can check the latest price here. 
Accessories for the Rode NT-USB include the PSA1 Swivel Mount Studio Boom Arm at $99. This allows perfect placement of the microphone which can improve your audio. Then there's also the Rode SMR shock mount to prevent desk vibrations from being picked up in the sound. This costs $75 but can make a real difference.
Other microphones to consider
Other microphones to consider are Audio-Technica's AT2020USB+ at $129 and a slightly more budget-friendly Blue Snowball iCE Condenser Microphone (cardioid) at $47.98.  
Conclusion
Have a read of the reviews and choose a reliable company. If your message is important then a good microphone is honestly worth the investment.  My personal advice is to always have a lavalier microphone in your equipment and a good USB microphone. If you can't get both at once then I recommend first getting the lavalier microphone with the adapter, as this can also be used as a good quality microphone in your office. Then when ready, step up to a high-quality USB microphone for use with your laptop or computer. The next step up from USB microphones is the world of XLR microphones which have higher quality and range but require an interface between them and your computer. That's maybe for another article but most should find the USB microphones more than sufficient. If you are interested in lighting to further improve your videos or live streaming be sure to check out my other article on effective low-cost solutions. 
It's important to get a good understanding of your equipment before you first use it publicly to avoid any unnecessary stress. Then enjoy producing videos, live streams, interviews, and podcasts knowing that your audio sounds great to the listeners. Good luck and happy communicating!  
My name is David Hamilton and I'm from Northern Ireland but currently living in Puerto Rico. I have a degree in Biochemistry and a M.Phil in molecular virology from Queen's University Belfast. I write on some of my interests which range from virology, astronomy and science related subjects to history. Thanks for your interest!
References
Newman, E. J., & Schwarz, N. (2018). Good sound, Good Research: How the audio quality of talks and interviews influences perceptions of the researcher and the research.  Science Communication