The Motorized Shower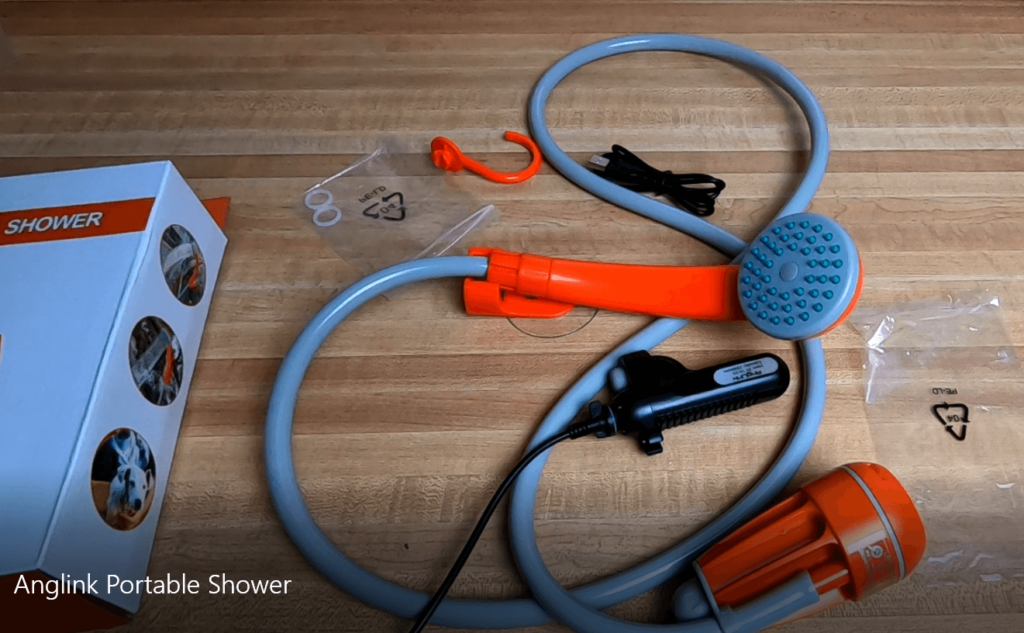 About a month ago, on the western side of the island of Puerto Rico, our water started being cut off every other day and it's due to continue for the foreseeable future. This is due to the combination of drought conditions and the hurricane-damaged Guajataca water reservoir that has to be kept at lower levels to allow vital construction work. So what does this mean for us? Well, imagine being in a public building, sick in a doctor's office or simply at work and needing the toilet only to find they are closed because there is no water. Think of those caring for the elderly, young children or any situations where access to running water makes your life easier. Depending on the individual situations it can begin to become stressful – especially with no end in sight and in a community still recovering from the effects of hurricane Maria.
Making things easier
We can't control the water situation outside our homes but inside we can do something besides collecting water in buckets to ease the stress and give a sense of normality at a low cost. There are 2 things that I've done in our home that have helped our family that aren't expensive or hard to implement.
1. The motorized shower
Bucket showers do the job. Scoop the water out, throw it over yourself, soap up and then rinse. However, the motorized shower gives that sense of normality again and I've just found it more practical to use than scooping water for my shower.
It really is as simple as charge the battery, drop the pump in the bucket, turn it on and stand underneath the shower. For a cost of around $30, it's well worth it if you are going to be without running water for long periods of time and just want the ease of showering again.
Check the short YouTube video below to see the motorized shower in action and get a much better idea if it would be useful to you.
If you are interested in purchasing it or looking into it in more detail here's the affiliate link to the product on Amazon. https://amzn.to/2Kqgbaa
Any purchases made through this link will result in a small percentage coming to me which helps with the running of the blog and the production of more videos. It's much appreciated.
So I've had it for about a week and the short summary is that it has a good flow rate and empties the 5-gallon bucket in about 4 minutes. I typically place the bucket beside the bathtub, shower and only turn it off to soap up so I'm not wasting water. One 5-gallon bucket does me fine. However, if you need longer simply use 2 buckets. Since the shower head attaches to a suction cup it's important to clean the tile before you stick it to it – as is wetting the suction cup before placing it to prevent the shower head from falling. My advice is to remove the suction cup and shower head after each use – you don't want it dropping too much. My showerhead has survived a number of falls without incident.
How is it powered? A rechargeable lithium battery which to date has not run out on me. I usually recharge it after three showers but you can do it as often as you want. If it's not going to be needed for a while simply store it with a full charge and then recharge every couple of months to keep the battery in good health. From experience, I would say the battery is a lithium 18650 and should comfortably last 200 full discharges. Since a full charge can last a number of showers, it'll last a long time and daily charging will extend its life.
The motorized shower gets two thumbs up from me.
2. Improvised water containers
The second thing that makes it easier for me are improvised water containers that contain a faucet (tap) to allow you to easily wash hands and dishes as if you had running water. They can be placed over the kitchen or bathroom sink allowing the easy washing of hands and dishes. Whether you can do this in the bathroom will depend on whether you have counter space (if not place the container on a chair in the shower), but most should be able to implement this in the kitchen.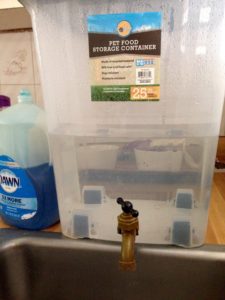 I made the container (see photo) while without water after hurricane Maria and it has come in useful again. At that time Walmart had pretty much sold out on most containers but I was able to find this one in the pet section! The faucet was a cheap plastic one purchased in one of the local hardware stores for a couple of dollars. After measuring the width of the faucet I cut a hole in the container (it must not be too much larger than the faucet pipe), used some rubber as a seal, tightened it up and that was it. At that time Rainwater was used to fill it and it did the job of washing dishes and cleaning our hands until the water came back on. Now, I simply fill up with tap water in preparation for the water cut. A smaller one was placed in the bathroom and made washing our hands or faces in the morning that bit simpler.
Conclusion
These two things are cheap and easy to implement and I've found that for myself they really do make a difference because they give you running water in the areas that I typically use it the most. Running water at the kitchen sink – check. Running water in the bathroom for shower and sink – check. That relieves some of the stress in long term situations without running water. The motorized shower can have other uses besides showering – removing the shower head turns it into a hose. Perhaps you can't lift the bucket to fill the toilet cistern – no problem, the pump will fill it for you from the bucket. I'm sure people could think of many other uses for it.
So I hope this has been useful to you and if you know of anyone else that might benefit from it, feel free to share the article or video with them. Any other ideas or tips feel free to share below in the comments!
My name is David Hamilton and I'm from Northern Ireland but currently living in Puerto Rico. I have a degree in Biochemistry and a M.Phil in molecular virology from Queen's University Belfast. I write on some of my interests which range from virology, astronomy and science related subjects to history. Thanks for your interest!